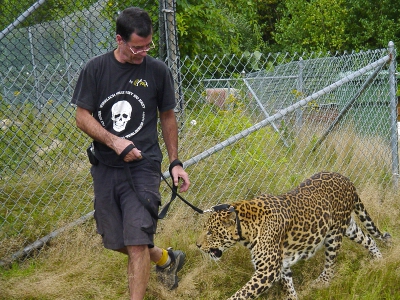 Cats are very much creatures of place and they get anxious, to widely varying degrees, when they're in a strange place. Fat Cat Sitting started in 2008 as a result of requests from clients at the Cat Clinic of Chattanooga. Those clients wanted a pet sitter, tuned-in to cats, who would allow their cats to stay at home, in "their place", when their owners were away.
I have been caring for cats, full time since 2005. Prior to coming to Chattanooga in 2008, I spent 6 years as a zookeeper caring for lions, tigers, leopards, cougars, bobcats and servals. I brought Cameron & Zabu to Big Cat Rescue and raised a leopard from baby to adulthood.
I worked at the Cat Clinic of Chattanooga, a feline exclusive clinic, from 2008 to 2015. I cared for patients and boarders, gave medications and treatments and assisted with behavior cases. I was also the clinic's feral cat representative and promoter of TNR (Trap-Neuter-Return). In 2012 with the Cat Clinic's help, I took Franklin, a young FELV+ cat to Best Friends Animal Sanctuary in Utah.
I'm active in the local TNR and rescue communities and regularly help caretakers with TNR of their "community cats". I help feed 3 local colonies and a portion of Fat Cat Sitting profits are used to feed those colonies.
I currently have 4 feline roommates.
If you're planning to travel and leave your cats at home, I hope you'll try Fat Cat Sitting. You won't be disappointed.
Mike Fitzgerald
Owner & Chief Cat Caretaker